Funeral Services for my father, Fred Wolfe
Funeral services will be held at 3 PM on Tuesday, Feb.15, 2011 at the Greenwood Funeral Home located at University Drive and White Settlement Road. A memorial service will be held at 7 PM the same day at St. Stephen's Presbyterian Church, 2700 McPherson in Fort Worth. A reception will follow this service in the Narthex of the church.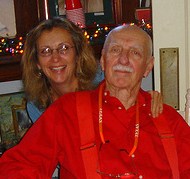 ---
You can leave a response, or trackback from your own site.
One Response to "Funeral Services for my father, Fred Wolfe"
---